This past weekend saw the 50th British Grand Prix to take place just down the road from where I work at the Silverstone Circuit. The track where the Formula 1 World Championship began.
There were three Brits on the grid, Lewis Hamilton, Jenson Button and Max Chilton, with Lewis being in the best car, the Mercedes, and Jenson and Max not expecting much. It didn't work out the way you would have expected on Friday, with Lewis qualifying down in 6th place, but Jenson managed a very commendable 3rd.
The race, however, couldn't have gone much better for Hamilton, the Great British Hope  for a 2014 Wold Champion. Not only did he win the race comfortably, but his team mate and main rival for the title, failed to finish – which evens out some of the luck after Lewis had technical difficulties in 3 races so far this year.
It was almost a perfect day for the British fans. The only thing that could have made it better would have been if Jenson had managed to pip Daniel Ricardo on the line for 3rd place and the final spot on the podium. As it was, he finished just under a second behind.
Jenson has never been on the podium at Silverstone, and it would have been extra special for him to do it this year, his father having passed away back in January.
Known as "Papa Smurf" in the pit lane, Jenson has carried a tribute to John Button on his helmet this year, and he went one step further in his home race. John was famous for always wearing a pink shirt on race day, and it was fitting for Jenson to paint his helmet pink to match the sea of pink in the crowd.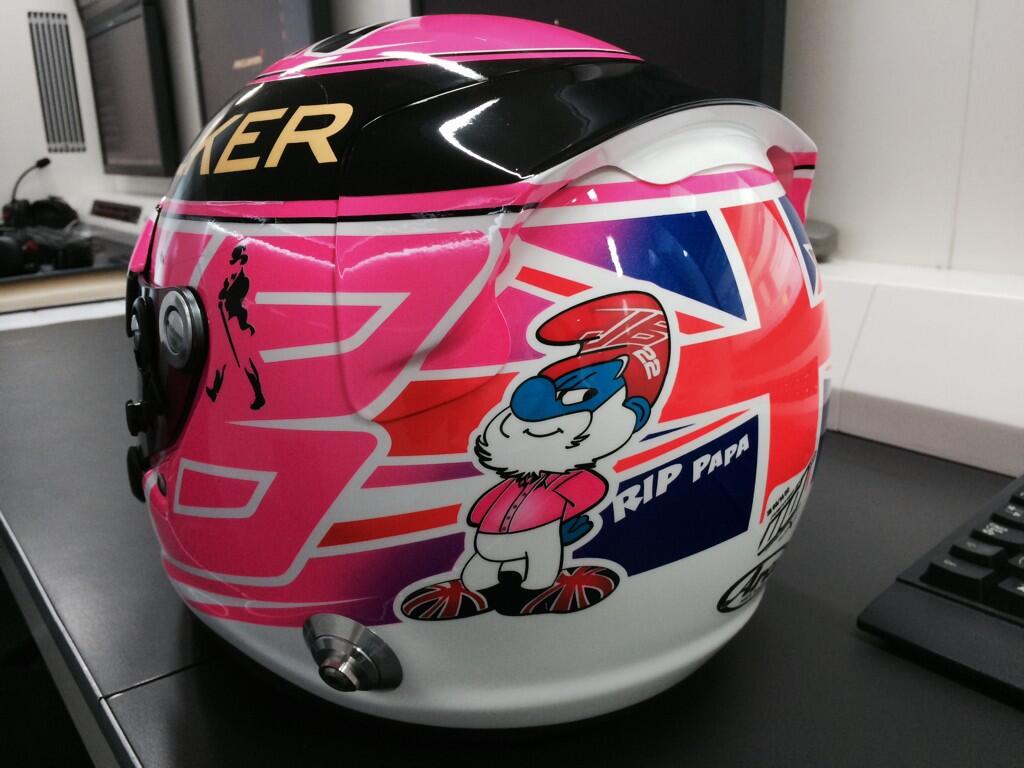 One last thing. Props to the crew at Silverstone who were able to change a damaged crash barrier in just under an hour. If only all road repairs took place so quickly.